En la Calle Marqués Viudo de Pontejos 2, esquina Esparteros, en pleno centro de Madrid, entre la Plaza Mayor y la Puerta del Sol. Existen 2 parkings públicos al lado de la tienda: Plaza Mayor y Jacinto Benavente. Horario: horario de lunes a viernes ininterrumpido de 10:30 a 18:30 y sábados de 10:00 a 14:00.  Le recomendamos utilice el Metro para llegar hasta el centro. Borca se encuentra a muy corta distancia de la parada de Sol. Cercanías: Sol. Autobuses: líneas 51, 20 y 3. No dude en llamarnos al teléfono +34 915 326 153 si desea información adicional de cómo llegar hasta nosotros. Además, le invitamos a hacer clic sobre el mapa interactivo.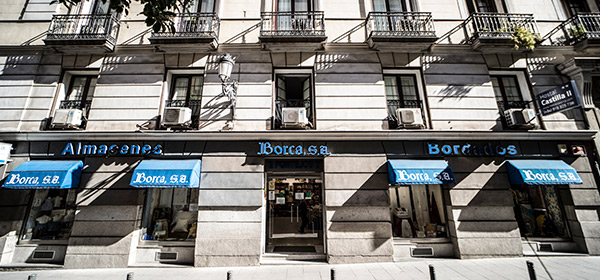 mondays to fridays from 10:00 to 20:00h
saturdays from 10:00 to 13:45h
august (closed from 7th to 20th)
monday to friday: mornings from 10:00h to 14:00h and afternoon from 16:45 to 20:00h. saturdays from 10:00 to 13:45h
Visita virtual
¡Buenas noticias para todos aquellos que no podéis venir a vernos en persona! Desde Borca, os abrimos las puertas de nuestro establecimiento en un Tour Virtual para que podáis apreciar todos nuestros artículos. Podréis descubrir todos los rincones de nuestra tienda, con más de 40 años de historia en el corazón de Madrid, en la castiza calle del Marqués Viudo de Pontejos. 360º de bordados para conocer, infinitos artículos llenos de estilo para la casa y el cariño por la artesanía textil tradicional española. ¡No dejes pasar esta oportunidad!.
Enlaces a las distintas secciones de nuestra tienda (haz click sobre la sección que te interese visualizar):