In the heart of Madrid, you can find BORCA S.A., a company specialized in embroidered household items. We offer products with an unbeatable quality / price ratio. Borca´s commitment is and will always be the full satisfaction of our customers. At our establishment you will find a wide range of home lingerie: -          Embroidered bedsheets. -          Bedspreads. -          Tablecloths of various sizes and colours. -          Curtains. -          Embroidered towels. -          Combs and brooches for "mantillas". -          Table covers, embroidered clothes bags, kitchen aprons, cushions, and so on… We offer you the best assortment you can find in Spain of: Hand and machine embroidered "mantillas", Hand and machine embroidered shawls ("mantones"), Mantle and bride´s veils. An expert team of professionals will advise you on everything that you need and will inform you about our products and their composition: linen, cotton, natural silk, polyester, rayon, acrylic… You will appreciate the different types of embroidery we have: shadow point, cross stitch, highlights, hemstitchs, frayed, richelié, filtiré… and laces: bobbin lace, venetian, frivolité, crochet hook… To make payment your purchases, we accept all kinds of credit cards. We are looking forward to your visit.
Breve historia de Borca.
Nuestra empresa fue fundada por D.Augusto González Lázaro (1929,Acebo,Cáceres- 2007, Madrid) En este pequeño pueblo de la Sierra de Gata existía desde hacía varias generaciones el artesanal encaje de bolillos. Los padres de Augusto recorrían los pueblos cacereños y toledanos vendiendo tan preciado encaje, llevando con frecuencia a su hijo. En 1961, Augusto y su esposa Consuelo se trasladan a vivir a Madrid donde en un pequeño despacho de la Gran Vía comienzan el negocio de venta de bordados: mantillas granadinas, manteles de Lagartera, encajes de bolillos, artesanía canaria, abanicos valencianos, etc… A partir de entonces crece la familia y el negocio. Se funda Borca y se establece definitivamente en el domicilio actual, calle Marqués Viudo de Pontejos, 2 de Madrid.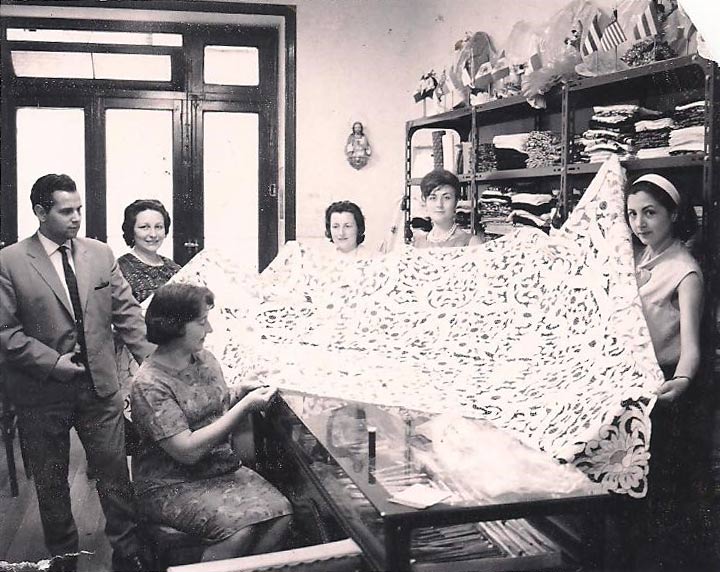 Despacho interior en Gran Vía 33, donde nació Borca (1961).

Despacho en Gran Vía, 33, Madrid (Mantillas y Mantelerías 33).
Actualmente
Borca está ya por la tercera generación y al igual que en sus comienzos sigue ofreciendo productos artesanales con una inmejorable relación calidad/precio. Un experto equipo de profesionales a su servicio le orientará en todo cuanto necesite; nuestro compromiso sigue siendo la plena satisfacción de nuestros clientes. Le invitamos a que visite sin ningún compromiso nuestra exposición de mantillas y velos de novia bordados, mantones de manila, manteles, juegos de cama, tapetes, cojines; así como una selecta sección de ropa de bebé. Estaremos encantados de recibirle en nuestra tienda en pleno centro de Madrid, o si lo prefiere visite nuestra página web, desde donde usted también podrá realizar su compra online, recibiendo cómodamente el pedido en su domicilio.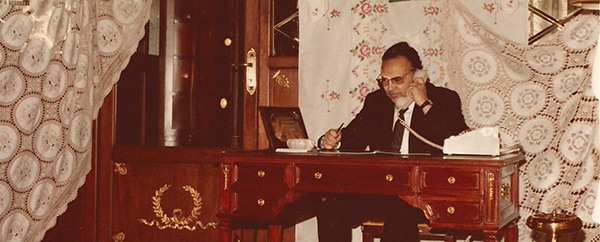 D. Augusto González, fundador de Borca en despacho-exposición (1979).